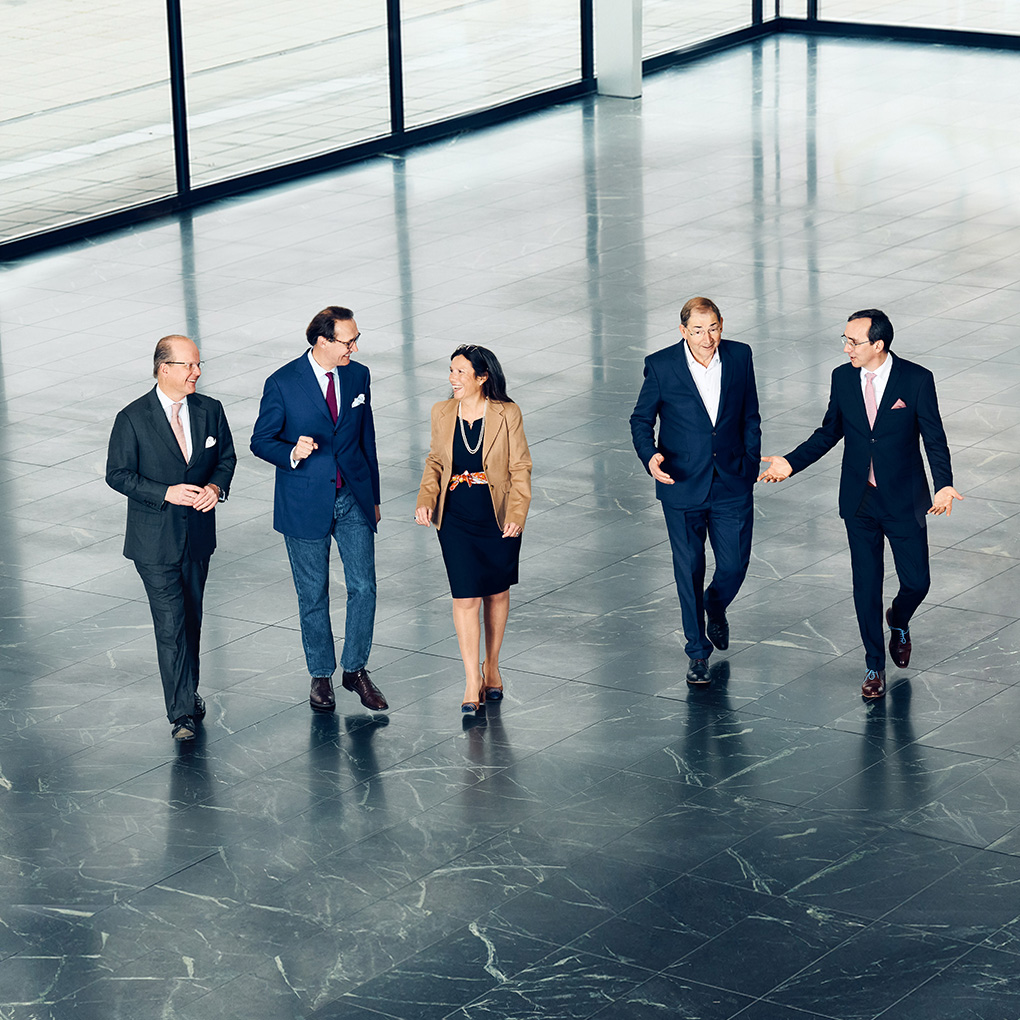 The Board of
Managing
Directors
Innovation drives us at Boehringer Ingelheim, to impact lives with new therapeutic solutions. In 2022 we were able to help more people than ever before, despite economic and geopolitical headwinds.
The pharmaceutical industry made significant progress in helping the world bring the COVID-19 pandemic to a halt. It raised awareness of the importance of vaccines, pandemic preparedness, and the urgency to fight antimicrobial resistance.
For Boehringer Ingelheim 2022 was an important year. We were determined not to let market uncertainties slow down the progress in our growing pipeline. In 2022 alone, we reached one FDA Breakthrough Designation, three Fast Track Designations and two Orphan Drug Designations.
We launched SPEVIGO®, our monoclonal antibody treatment for patients with Generalized Pustular Psoriasis. We also received approval for treating symptomatic chronic heart failure patients with JARDIANCE®. In addition, we provided evidence that patients living with chronic kidney disease significantly benefit from JARDIANCE®.
We delivered promising research results in key medical areas including oncology, the central nervous system, retinal health and in metabolism. We are currently pursuing clinical proof for more than 50 new medical products. Over the next seven years we expect 20 new medicine approvals that will help us address unmet needs for many more patients. We will also launch a range of new products for animals from 2023 onwards.
Our businesses performed well in 2022, delivering medicines and helping 30 million patients. In Human Pharma we saw ongoing strong demand for our innovative medications, led by the JARDIANCE® product portfolio and the respiratory medicine OFEV®. Our Animal Health business felt the impact of the economic slowdown in Europe and North America, while at the same time laying the groundwork for a range of new product launches.
Key to this overall strong performance is the commitment of our employees – from early research to product supply, and our engagement with stakeholders. They are at the heart of everything we do. Equally, we are grateful for the many successful scientific and commercial partnerships we have. We truly appreciate and value their support.
The excitement about our growing pipeline and the success of our current portfolio, for patients and animals alike, makes us confident about the future, energized to transform lives for generations and reach ever more people who benefit from our products.
signed by
HUBERTUS VON BAUMBACH
CARINNE BROUILLON
DR. MICHEL PAIRET
JEAN SCHEFTSIK DE SZOLNOK
MICHAEL SCHMELMER