HUMANITARIAN AID
"We don't want
to live in fear
anymore"
The war in Ukraine continues to cause suffering and hardship. The Polish and the German Red Cross – supported by donations from Boehringer Ingelheim – are making every effort to help.
HOW BOEHRINGER INGELHEIM HELPED THE RED CROSS
In the first days of the war, Boehringer Ingelheim made a first financial donation of 2.5 million euros to emergency relief organizations. Knowing that more than initial support was needed, the company also decided to make monthly donations of one million euros each to the Polish Red Cross and the German Red Cross, starting in March 2022 and will continue in 2023. In all, in 2022 Boehringer Ingelheim committed more than 25 million euros in financial support and medicines.
For the second night in a row, Kateryna Afanasenko got no sleep. Sirens were wailing, her three children crying continually. When another detonation occurred, Ms. Afanasenko knew: It could not go on like this.
She decided to flee the war in Ukraine, packing up the essentials for herself and her children the next morning. They boarded a train that took them to Rzeszów in Eastern Poland, not far from the Ukrainian-Polish border.
Those first few days in a new place were tough, she remembers. They missed everything they left behind: their home, friends, neighbors and above all their dog, which they had to leave behind. Her voice breaks, and she briefly turns away.
Ms. Afanasenko now lives with her three children in their own small apartment in Zamość, 250 kilometers southeast of Warsaw. At an integration center run by the Polish Red Cross, her Polish lesson has just ended. She can now ask for directions or go shopping in Polish, she says. "But I still have to improve further."
The need for help continues
Since August, the local branch of the Polish Red Cross has been offering daily language courses for refugees and is constantly expanding its range of help.
"Providing humanitarian aid to refugees at the border is still one of our main tasks," says Viktoria Krasun, coordinator of the Integration Center. More and more Ukrainians have settled in Poland and need to be integrated into society. "The ultimate goal is that the refugees feel safe and comfortable with us — and that they stand on their own two feet in the future, also with our help."
Boehringer Ingelheim has been supporting the Polish and German Red Cross's efforts since March 2022 with a monthly donation (see info box). In this way, the Ukrainians are helped in their great need — sustainably and in the long-term. The war and the suffering are far from over.
Even as refugees like Ms. Afanasenko and her family are building a new life for themselves in Poland, the war and the suffering are far from over. More and more refugees arrive daily from the war zone.
In Poland, and safe
At the border station Przemyśl, on Wednesday, November 9, 2022, at 3:40 pm the train from Zaporizhia in Eastern Ukraine arrives on the completely fenced Platform 5. More than 250 refugees are led into an unadorned, yellow building for passport and customs control. Minutes later, they are officially in Poland, and safe.
Relatives are waiting for some of the refugees with colorful balloons and flowers. There are embraces, tears of joy. For others — like Natalia and Alexander — the train will go further West. They're two young adults, just 21 years old, wearing red tracksuits and sneakers. "The fighting in the East became more and more threatening," one of them says. "In the end, the electricity broke down. We don't want to live in fear anymore. We continue to travel to friends in Katowice."
Most of the new arrivals, however, have no point of contact. Polish Red Cross volunteers and staff in Przemyśl meet them — then guide them to Anna Miśniak. She manages the so-called Transit Center run by the Polish Red Cross, ten minutes from the train station.
Up to 1,200 camp beds are available here in a former warehouse. In addition, hot meals are provided in a café. Patients with headaches, high blood pressure or other symptoms are treated in a doctor's room. Children and young people play in a games room; in one corner, two children paint colorful pictures.
"For many refugees, our transit centers are the first stop on their journey," says Ms. Miśniak. "We give them a place to sleep, take care of them — and place them in other cities and communities within 48 hours." In Przemyśl there has long been a lack of housing. Ms. Miśniak estimates that more than 10,000 Ukrainians have now settled in the small town, which formerly had a population of 60,000. There is no more spare capacity.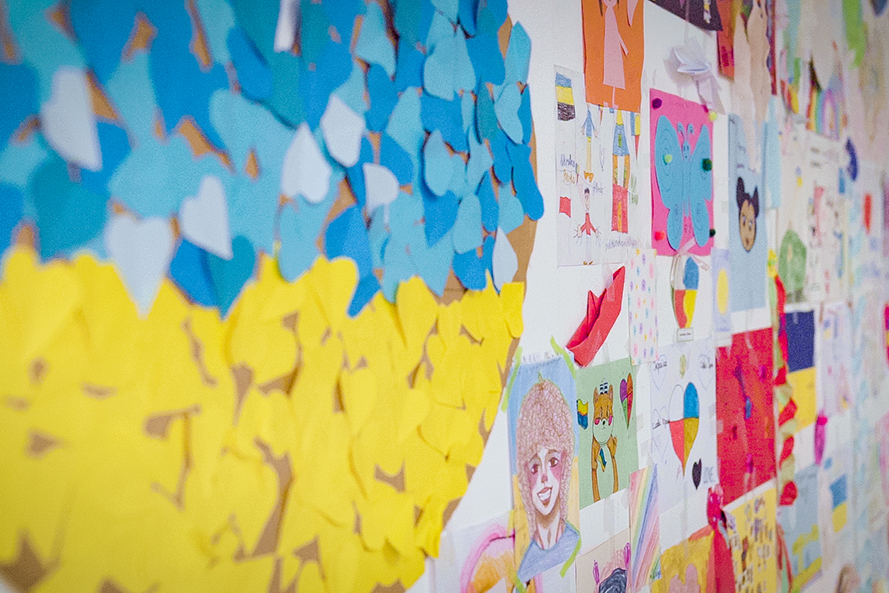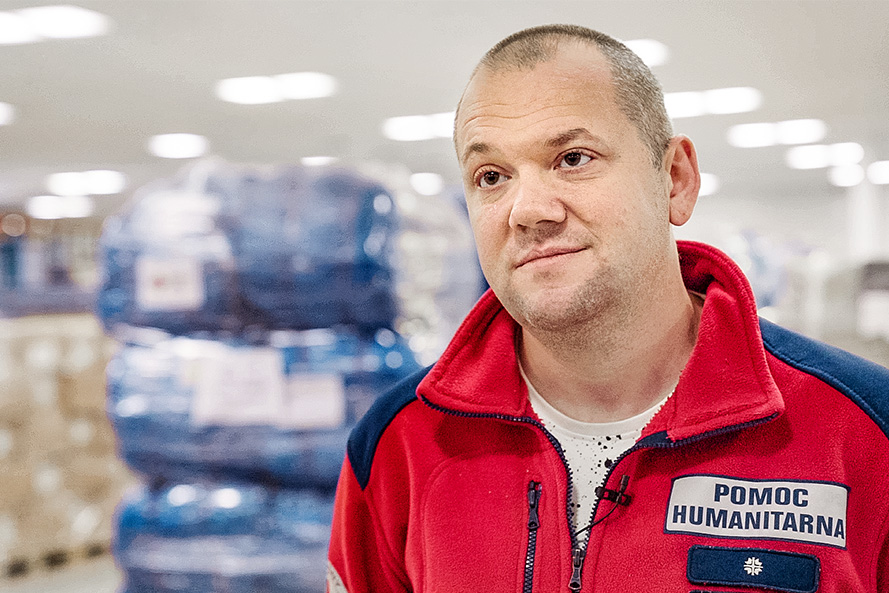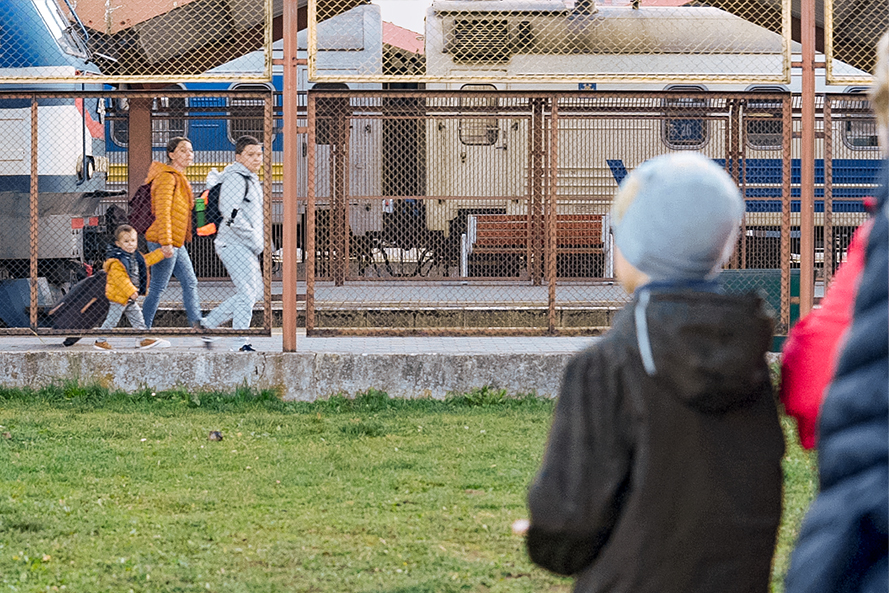 The willingness to donate has waned
And yet, several hundred Ukrainians continue to arrive at this Polish border town every day. The Polish Red Cross predicts that up to 750,000 people from Ukraine could leave their country in the coming weeks and months.
To be prepared, Maciej Budka, a member of the Polish Red Cross, tries everything to fill the group's warehouses. He asks distributors to send food, tries to buy tents and mattresses, and asks his international colleagues for hygiene kits. While walking through the 5,000-square-meter building on the outskirts of the city of Lublin, Mr. Budka critically examines the inventory.
"We received a large shipment of sleeping bags," he says, pointing to a pile of large blue bags. One aisle further, Mr. Budka cuts open a brown cardboard box with a carpet knife and takes out soap dispensers. He nods thoughtfully. Overall, we have more stock than at the beginning of the war. But is it enough? Mr. Budka is skeptical. "There is never enough. The need is simply immense." Currently, there is a lack of generators. Also, the willingness to donate has decreased." After months of war, attention to the conflict is declining.
"Now I can help."
Mr. Budka is all the more grateful for every donation and every helper.
Among those who volunteer is Ms. Afanasenko, the refugee mother of three. She is a trained hairdresser — and cuts the hair of her fellow students from the language course after class in the rooms of the Polish Red Cross, free of charge. "I have received a lot of help and I know how great the need is," she explains. "I feel better today. Now I can help. Every gesture counts."
If you would like to donate to help people affected by the war in Ukraine, here are a few suggestions: